This idea has come from a discussion I had with Captain Murphy, who thinks that the original idea came from Ahruman, but nothing has been done on this. So I'm not claiming it as an original idea - however I have decided to flesh it out a bit to see if there is any interest in completing it.
Captain Murphy said:
What is missing and would make a good OXP, even if only for local colour I think are fuel scooping space stations near to the sun, with transports/tankers (which could be dockable and sell fuel at a discount) running that fuel from the sun to the system's stations. Would also open the door to little mini missions where for example pirates are choking off the supply of fuel, either by pirating said transports or by hijacking the fuel producing stations raising prices at the normal outlets.
The idea is that medium and high tech corporate systems would be the Ooniverse equivalent of Earth's OPEC countries. These systems would contain a fuel processing and transfer plant in orbit of the star. In proximity to this, would be an array of collectors. Fuel would be shipped from the collectors to the processing and transfer plant. Fuel would then be on-shipped using specialized tankers to the main station and other system stations. Additionally, the station and tankers would be protected by private security vessels.
In addition to cheap fuel at the stations, they would also sell cheap Q-based weaponry (provided you are a non-offender), and fuel tanks (if you have that OXP).
The station would buy at a good price alloys, machinery and platinum and also luxuries and food for the crew who live and work there. All other items would have no trade value.
Regarding, scripting, I'd like to base it on an existing flavour OXP that I believe could be relatively easily modified to include the different vessels and trading script.
I have some ideas for how I'd like the visuals to look and I've attached a quick sketch below of the refinery and tanker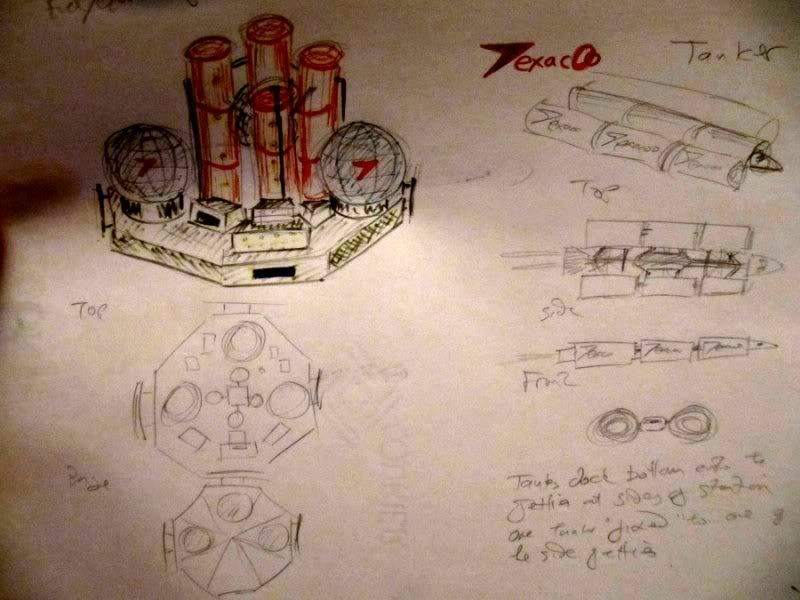 Does anyone reckon this is a goer?