Due to popular demand The GalTech Industries Corporation proudly announces the release of the Fireball (Available as both a player and NPC ship). This ship is the fourth in a series of ships from classic Sci-Fi TV programmes.
The ship pictured below is the standard player model however the OXP incorporates some additional ship textures. Further information is available in the ship's Wiki page (Just follow the link to my OXPs in my signature strip below).
EDIT
- Updated version V1.01 uploaded which corrects the ship price and adds fuel scoops to the standard equipment for the player version.
Download it here or via my Wiki page
https://www.box.com/s/fzh530my34htijhqxk9f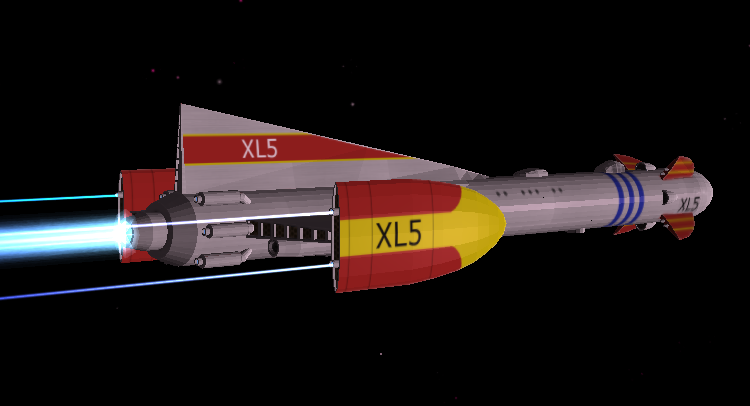 The Fireball has been developed with versatility in mind. This multi-functional vessel is able to offer a combination of cargo carrying capacity and passenger transport capabilities whilst retaining above average combat characteristics.
Produced at the shipyards of the GalTech Industries Corporation in the Ceesxe, Gerete and Edle systems the ship has quickly established itself as a commercial success.
Though the standard model is offered with a basic level of equipment the 'future-proof' design approach caters for a full range of additional upgrades.
It is however the hi-tech escape module, (see the ship's Wiki page), which differentiates this ship from many others. Rather than providing the option to fit the ship with an escape pod and hope for a safe return to the nearest station the front section of the main ship, nicknamed the Junior, is automatically jettisoned just before the point of destruction.
The Junior, rather than being a slow unarmed pod, features front and rear lasers along with a respectable turn of speed and maneuverability. This may not be sufficient to outgun most attacking pirates but is intended to provide the ship's crew with a much increased chance of survival.
For full details of this ship and a picture of the Junior see my Wiki page (Click on the link in my signature strip).
The ship specification is as follows: -
Size (metres WxHxL) 47m x 23m x 120m
Standard cargo capacity 20T
Cargo Bay Extension 5T
Maximum speed 0.315 LM (0.330LM Police)
Thrust 30
Manoeuvrability Roll 1.4 and Pitch 1.5
Hyperspace capable Yes
Energy 380 (400 Police)
Energy recharge rate 3.2 (3.4 Police).
Gun mounts 4No (Fore, Aft, Port and Starboard)
Missile slots 4
Shield boosters available Yes
Military shields available Yes
Fuel scoops available Yes
Tech level 8
OXP or standard OXP
Available to player Yes
Base price 135,000 Cr