Moderators: another_commander, winston
Earth, the green planet with fiery winds/clouds...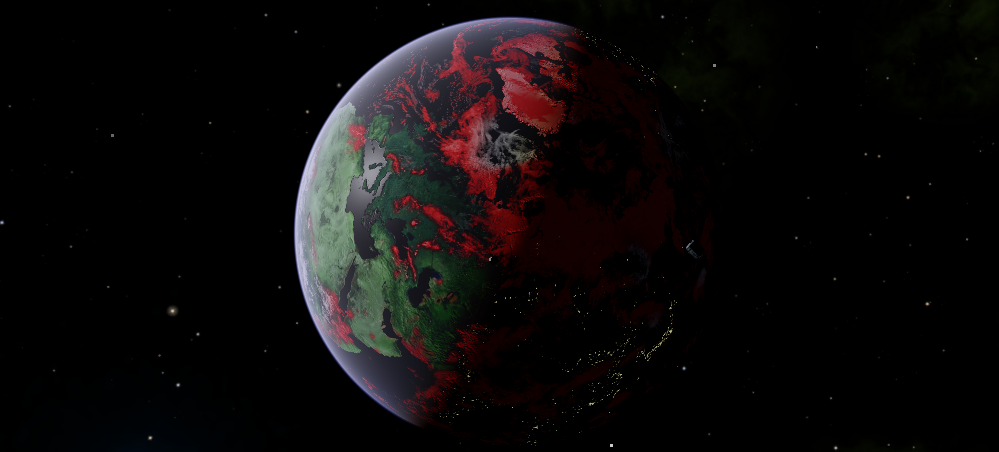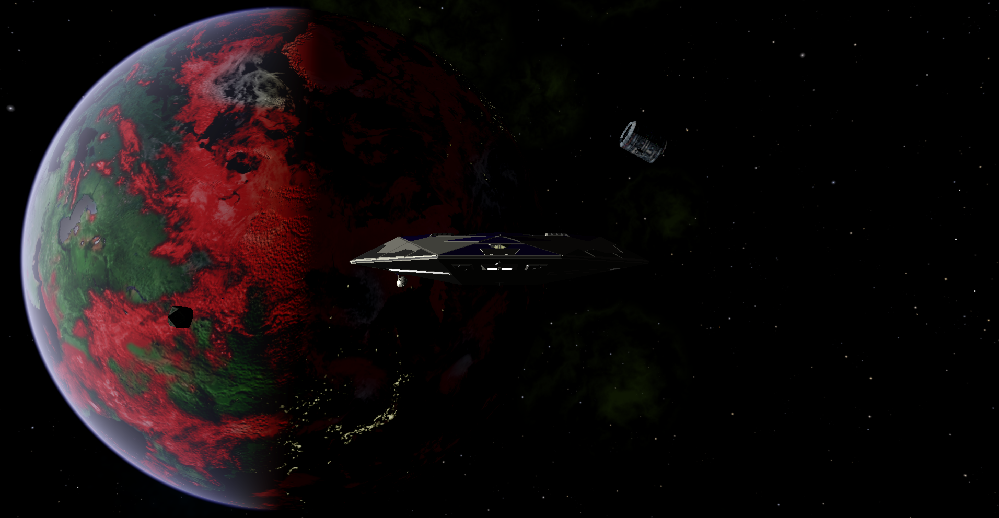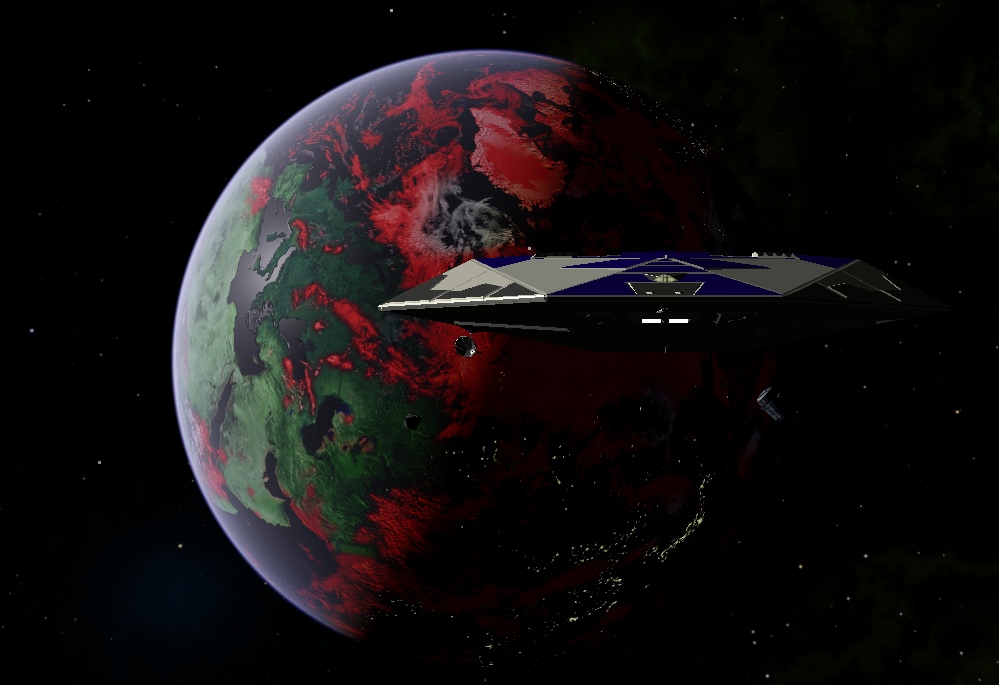 Btw, happy rings-day to everyone!
---
Quite Grand Sub-Admiral

Posts: 5550
Joined: Wed Feb 28, 2007 7:54 am
Griff Boa over Bemaera, with sun radiance mutliplier at 4.0, exposure mutliplier at 2.5 and Griff's shaders adjusted to conform to the 1.89 light model, using specular and gloss maps.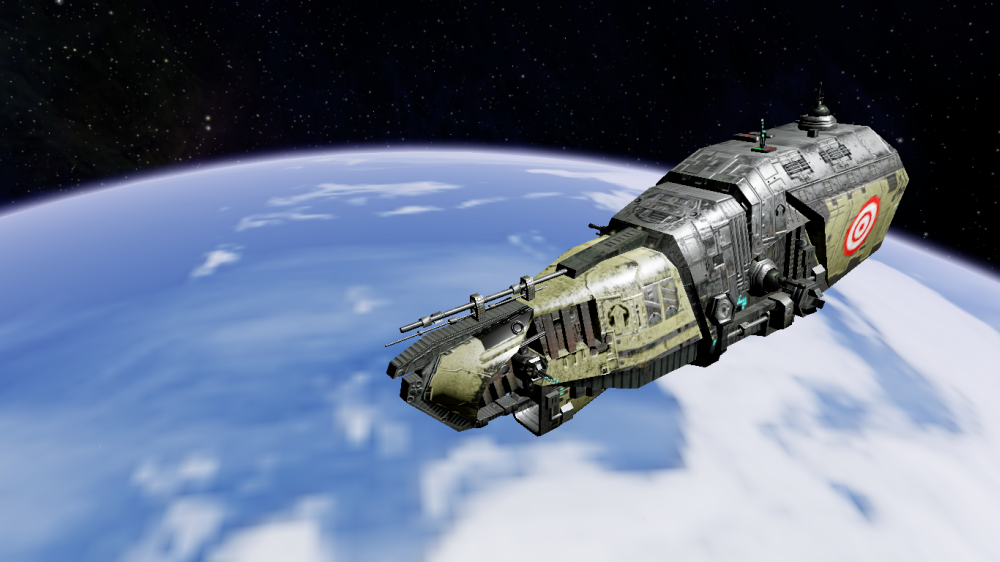 ---
Commodore

Posts: 2611
Joined: Tue Jan 21, 2014 10:37 pm
Location: [p]laying [h]ard and [k]icking [b]utt somewhere in G7...
Nice, a_c! Any chance of getting hold of the tweaked Griff shaders? Maybe?
---
Quite Grand Sub-Admiral

Posts: 5550
Joined: Wed Feb 28, 2007 7:54 am
Sure, download the entire modified OXP from here:
https://drive.google.com/file/d/1OQ-Shy ... sp=sharing
Only the player version of the Boa has received the new ligthing treatment. Also, all multipliers are set to 1.0, so you will have to adjust the shaders to get them to light up a bit.
And I seem to have forgotten the exposure code too in that zip, so you may want to add the line color *= MULTIPLIER_EXPOSURE; just before the if(uGammaCorrect) line at the end of each fragment shader.
Edit: Uploaded new fixed version.
---
Firstly, congrats on the new model. That Boa shot looks fabulous.

Having now tinkered with it myself, I'm finding that any increase in sun radiance highlights just how wimpy the default clouds are. Up it to just 2.0 and any cloud cover that Lave might have had are no longer obvious.

Of course we can merge a cloud layer over a planet surface to make a single texture (as I suspect is the case in the boa image) but relying on the default cloud layer to 'do the job' now seems optimistic at best.

That's often the nature of progress I think, one thing getting better highlights that others aren't as good, so it's still a massive thumbs up from me. It's been a long time since I seriously looked at planet textures, maybe I should add them to my list...
"
With our thoughts, we make the world
"
- - - Game too slow for you?
Masslock Compensators
- - - Trouble getting out of trouble?
Indestructible Injectors
---
Quite Grand Sub-Admiral

Posts: 5550
Joined: Wed Feb 28, 2007 7:54 am
---
Competent

Posts: 56
Joined: Wed Jul 03, 2019 10:27 am
Beautiful shots as always! I am really a fan of that brighter lighting. It brings out the colors and detail and adds a lot to the realistic look.
---
---- E L I T E ----

Posts: 377
Joined: Sat Aug 09, 2014 4:16 pm
Three samples of what I'd call BPlanets:
Lave
Ensoreus
Onrira
Short explanation: 119 Earth like planets in G1 (mapped from "0 1" to "0 119"), with diffuse (colour and night city lights) and normal (normal and specular) maps.
Will try to open a dedicated forum thread for more discussions -- for the impatient the link for download (~1.2G) is
here
---
Quite Grand Sub-Admiral

Posts: 5550
Joined: Wed Feb 28, 2007 7:54 am
---
Those are incredibly atmospheric (no pun intended). The planetary details make a brilliant backdrop, with the space station hanging over them. Really, really well done.

Cheers
John
---